Baked Louisiana Speckled Trout
By Captain Jason Schilling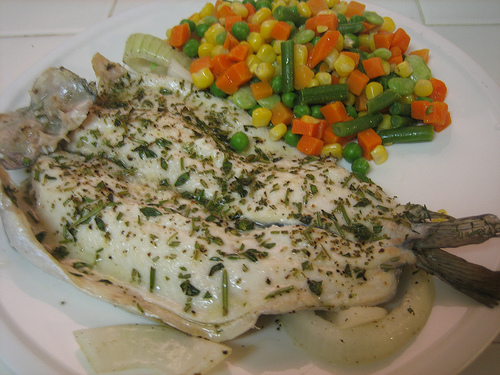 3 servings

Serving size: 1 1/3 Fillets
Calories per serving: 317

Total Cooking Time: 1hr 50min
Ingredients:
trout fillets:4 medium

sliced small onion:1

lemon:1

sliced bell pepper:1

butter:1/2 stick

pepper:to taste

salt:to taste

garlic powder:to taste

vegetable spray or garlic spray:to taste

Directions:
Spray baking dish with vegetable spray or garlic spray. Place filets in dish; squeeze juice from lemon over fish. Slice butter into pats and place on top of fish. Sprinkle salt, pepper and garlic powder, sliced onion, and bell pepper over fish. Let stand for 1/2 hour, then bake at 350 degrees for about 45 minutes.
Preheat oven to 350 degrees F. Melt butter in a saucepan over medium heat. Sauté onions and rosemary 4-5 minutes until onions are tender. Add next 4 ingredients. Heat 5 minutes, stirring occasionally. Let cool. Place 1/4 cup mixture on each flounder fillet. Roll up and secure with toothpicks. Arrange flounder rolls in a shallow buttered baking dish. Bake 20 minutes. Combine soup and water in a bowl. Pour soup over baked the flounder, stirring around sides. Bake another 15 minutes, or until heated through. Sprinkle with paprika and serve.