Outdoor Gas Grilled Louisiana Redfish
By Captain Jason Schilling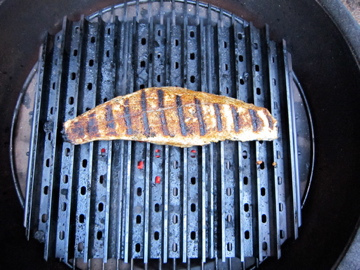 10 servings

Serving size: 1 Half-pound Slice
Calories per serving: 393

Total Cooking Time: 1 hour 10min
Ingredients:
LA. Redfish:1 (2-5 lbs.)

minced garlic:2 tsp.

lemon juice:2 tsp.

sticks butter:1 1/2

Tony Chachere's Creole Seasoning(season all):to taste

hot sauce (optional):1 tsp.

Directions:

Fillet redfish along backbone, leaving skin and scales on outside of fish. Place fish on low-medium heated gas grill, scale side down. Take all other ingredients and blend together in saucepan. Simmer about 10 minutes. Brush sauce onto redfish while cooking 10-15 minutes intervals for about 1 hour or until fish is fully cooked. Add Tony's. Garnish and serve with hush puppies and French fries or whatever you like. Enjoy!