Louisiana-Style Flounder Florentine
By Captain Jason Schilling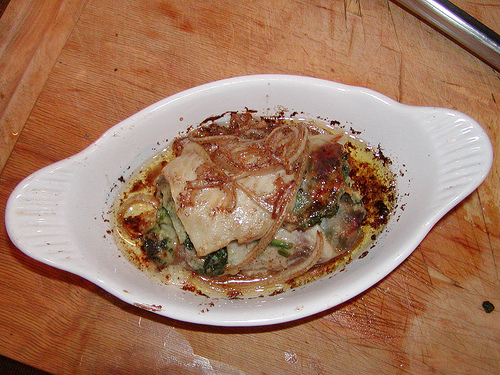 2 servings

Serving size: 1 8oz Slice
Calories per serving: 427

Total Cooking Time: 45min
Ingredients:
flounder fillets:1 lb.

unsalted butter:1 Tbs. plus 1 tsp.

chopped onion:2 Tbs. plus 2 tsp.

crushed rosemary:1/8 tsp.

frozen chopped spinach:7 ounces

chopped almonds:2 Tbs. plus 2 tsp.

cooked instant rice:1/3 cup

lemon juice:2 tsp.

toothpicks:as necessary

cream of mushroom soup:2/3 cup

water:2 Tbs. plus 2 tsp.

paprika:1/8 tsp.

Directions:

Preheat oven to 350 degrees F. Melt butter in a saucepan over medium heat. Sauté onions and rosemary 4-5 minutes until onions are tender. Add next 4 ingredients. Heat 5 minutes, stirring occasionally. Let cool. Place 1/4 cup mixture on each flounder fillet. Roll up and secure with toothpicks. Arrange flounder rolls in a shallow buttered baking dish. Bake 20 minutes. Combine soup and water in a bowl. Pour soup over baked the flounder, stirring around sides. Bake another 15 minutes, or until heated through. Sprinkle with paprika and serve.