Louisiana-Style Crab-Stuffed Flounder
By Captain Jason Schilling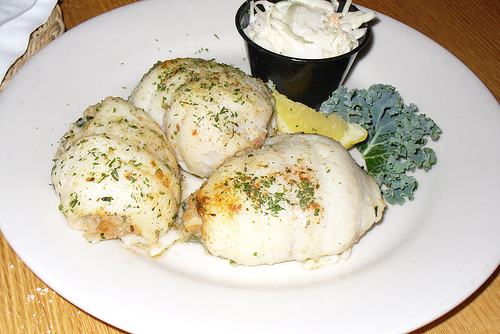 7 servings

Serving size: 1 6.7oz Slice
Calories per serving: 627

Total Cooking Time: 30min
Ingredients:
fresh flounder fillets:2×2.5 lb

chopped onion:1/4 cup

margarine or butter, melted:1/4 cup

canned crabmeat, drained:7-oz.

saltine crackers, crushed:1/2 cup

salt:1/2 tsp.

pepper:dash

Cheddar Cheese Topping (recipe follows): to cover
butter:3 tbsp.
flour:3 tbsp.
salt:1/4 tbsp.
milk:1 1/2 cup
cheddar cheese, grated:1 cup

Directions:

Butter either 6 individual casserole dishes or one large 2 quart dish. Combine the onions, butter, seasonings, crabmeat and crackers. Roll the crabmeat mixture up in the flounder fillets. Bake uncovered 25 minutes at 400 degrees F.
In a saucepan, while the flounder is cooking, melt 3 tbsp. butter. Stir in 3 tbsp. flour and 1/4 tsp. salt. Simmer until bubbly and smooth, just a brief time. Add 1-1/2 cup milk, stirring constantly until it thickens. Stir in 1 cup grated Cheddar Cheese and stir until cheese is all melted. Remove casserole dish from oven after 25 min., pour cheese sauce over flounder and return to oven. Cook about 5 minutes longer. Remove and serve.